Ramana Vieira Albums and Events
Stay Current on Ramana Vieira
March 30th in Lakeport, Ca. at the Famous Soper Resse Theater!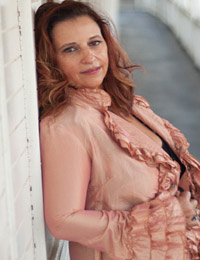 Portugal Day Celebration with
Ramana Vieira
Saturday, March 30, 2019
7:00 pm Doors open 6:30
Take a journey to the world of Fado, often described as the Portuguese version of the blues. This concert presents Fado as interpreted by Ramana Vieira, a northern California native of Portuguese descent who has been described by The New York Times as an American at the forefront of the Fado resurgence. The San Francisco Examiner calls her "the Rising Star in World Music." Her authentic and individual style, brilliant musicality, and colorful heritage appeals to a wide audience. Following her show at the Soper Reese last year, this year's performance will concentrate more fully on the authentic fado style.
All seats $20.00
Open Seating
Theatre members (Patron Level and Above) receive an automatic discount online and in advance at the box office, or ask for it at the Door.
It's finally here. Ramana's re-release of "Lagrimas De Rainha"--Tears of a Queen, a contemporary fado album with hints of bossa, world, jazz, fusion and Fado Guitarra and soaring gypsy vocals.
Updates, videos, nominations and more
The gallo theater performance video Oct. 13th
Estranha Forma Da Vida

Faculty Concert at Jazz Camp West 2016

Ramana Vieira has a new video out called "Fado Da Vida" as directed by Helder Pedro
What's New and Exciting.
Music from March 5, 2015 Sound Room Oakland, Ca. 94577


"Ai Mouraria" the most watched video
Also here is interview which was done recently on RTP RADIO
Ramana Vieira has been nominated for a second year consecutively for best Fado performance with the International Portuguese Music Awards 2016 as well as a People's Choice award. You can vote here until April 8th, 2016: www.ipmaawards.com/vote


Learn More
For more on Ramana Vieira's Fado albums, performances or previous appearances, we invite you to contact us directly.